·
About Archives (Old Archives) Contact Search PoliticalxRay/PoliSat.Com News Troops
Dec. 8, 2004 #01: Political Satire/Commentary where satire is always commentary but commentary isn't always satire™ (but we're confident you'll know the difference) Search PoliSat.Com Home Tell a friend about PoliSat.Com Subscribe Permanent link to this installment in PoliSat.Com's Archives Google-News list of recent updates About author, Jim Wrenn.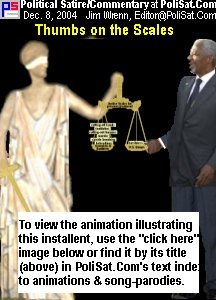 Prisoners-- Torture versus harsh treatment; Thumbs on the Scales of Justice; Abu Ghraib, Iraq, Special Forces, Afghanistan, Baathists, Terrorists, ACLU, ICRC, UNHRC, Kofi Annan, Ted Kennedy.
Again there arises an asymmetrical chorus of outrage over claims that American troops failed to treat prisoners properly by refusing to cut out their tongues, cut off their hands, cut off their ears, dip them in acid, hang them from ceiling fans, throw them from second-story rooftops and then behead them as do our devoutly religious adversaries. What's the world coming to?
There are signs of hope for a "fair and balanced" view of these issues. In San Francisco, a group of homosexual men staged a protest against the International Committee Red* Cross (ICRC) classifying as "torture" the practice at Guantanamo of forcing the terrorists to wear ladies' lingerie. A spokes-being for the group said, "We know the difference between torture and fun-- wearing a business suit is torture, but wearing Victoria's Secret lingerie is fun. Those terrorists need to 'get a life.'"
A group of porn "stars" staged a sit-in and then a lie-in, which, in past tense became a lay-in, protesting the ICRC's classification as "torture" the Abu Ghraib practice of forcing prisoners to lie naked together. A spokes-being for the porn "stars" said, "If all the terrorists would learn to lie naked together, they wouldn't want to wear clothes anymore and then they'd be easy to spot trying to sneak into airports."
The United Nations Human Rights Commission (UNHRC) launched a full-scale investigation of an allegation that a Special Forces member actually socked a prisoner in the face. A news report that the UNHRC considered such conduct to be a "war crime" under the Geneva Convention prompted Muhammad Ali to call a press conference to explain that George Foreman, one of the strongest boxers ever, had punched him in the nose yet he (Ali) mocked such mild treatment by asking Foreman, "Is that the best you've got?"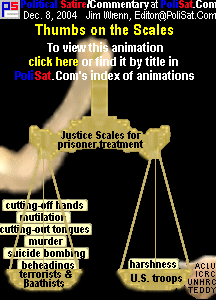 Meanwhile, the ACLU, having become envious of the enormous publicity being reaped by the ICRC vowed to never again be outdone in expressing outrage against the treatment of prisoners by American troops. When a reporter asked the ACLU spokes-being whether it was expressing asymmetrical outrage-- i.e., more outrage at harsh treatment meted out by American troops than at beheadings, mutilation, etc. by the Baathists and terrorists-- the ACLU spokes-being indignantly explained: "Our priority is education! Everyone already knows it's barbaric to cut off tongues, ears, limbs and heads but not every knows it's barbaric to force devoutly religious terrorists to wear women's lingerie."
Meanwhile, Al Jazeera used a special feature on such barbaric practices as an opportunity to introduce the popular Arab network's newest News Anchorman even though that special report (here) is quite out of date. Anonymous sources indicated Al Jazeera had been delaying the selection of a new anchor in hopes that Dan Rather would make himself available, but when Rather's "resignation" announcement revealed his plans to continue working for 60 Minutes after leaving the CBS Anchor desk, the top executives at Al Jazeera knew they would have to settle for the next best candidate on whom they could count to regularly present "the truth" to battle the "lies and distortions" by Fox News. (However, anonymous sources deep inside Al Jazeera have told PoliSat.Com's Middle East Bureau Drawer Chief that the real reason they object to Fox News is that they have too many Foxes presenting the news, which is deeply offensive to the devoutly religious Arab males in the "Arab Street.")
--Jim Wrenn, Editor at PoliSat.Com

Installment immediately preceding the one above, go here.
Recent Political Satire/Commentary Animations-- See thumbnails below GoogleAds (below).


Recent Political Satire/Commentary Animations-- Click image to play.





















Mor

e Animations: Text-Index/Images-Index.

Other sites that feature PoliSat.Com's Political Satire/Commentary-- Click here to view our Affiliates page.

Questions for Americans:

Shouldn't we be at least as generous in supporting the families of our troops killed or injured while serving our country in Afghanistan, Iraq, in America and throughout the rest of the world as we were for the families of the victims of 9-11? Here are some suggestions:

*Salute American Heroes* *Support Fallen Heroes Fund*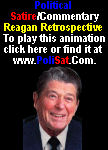 Shouldn't we recognize that many, if not most, instances of foreign anti-Americanism in the late 20th Century (like most of the foreign anti-Americanism today) focused reactionary rage against maintenance of, and willingness to use, human-rights-respecting power against forces that oppose liberty and favor the "stability" of the status quo? See a retrospective on Ronald Reagan. Shouldn't we recognize that despite arguments to the contrary by devotees of the United Nations that the world remains a yet-to-be-civilized place in which the wise exercise of human-rights-respecting power more than intellectual sophistry can best assure the survival of liberty?
Shouldn't we recognize that "property rights" are among the most fundamental of "human rights" and are therefore vital to the survival of liberty? See "'Life, Liberty and the Pursuit of Happiness' versus 'Life, Liberty [and] Property.'"
Questions for secular thinkers:
Shouldn't secular thinkers be at least as respectful towards ordinary people of faith as George Bush is towards ordinary secular thinkers, and shouldn't ordinary secular thinkers repudiate fanatical secular fundamentalists at least as firmly as Bush repudiates fanatical religious fundamentalists? Shouldn't secular fundamentalists learn to recognize the unscientific nature of their own leaps of faith before throwing stones at unscientific leaps of faith by ordinary people of faith? See satire/commentary about Secular Fundamentalists and Religious Fanatics.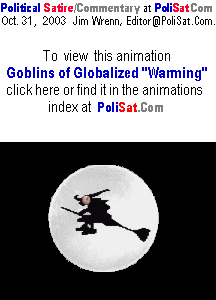 Shouldn't people professing to be secular thinkers learn to understand the difference between science and political science (i.e., politicized science)? Shouldn't radical environmentalists learn to understand that their views are little more than modern forms of pantheism? See Satire/Commentary about Pantheopians. Shouldn't they learn to objectively and scientifically scrutinize theories such as Global Warming at least as rigorously as they scrutinize "creationism"? See "Global Warming or Scientific Flatulence?" See also the commentary on proposed "climate stewardship" legislation and the animated illustration, "Goblins of Globalized 'Warming.'"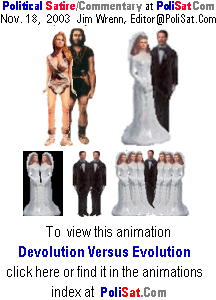 Shouldn't people professing to be secular thinkers learn to understand that what science reveals about human evolution supports, rather than undermines, the sensibility of a rebuttable presumption that monogamous, heterosexual marriage best serves the interests of children notwithstanding the sensibility of recognizing civil unions to accord comparable (but not identical) privileges to mutual-support partnerships? See commentary "Evolution versus Revolution" and the animated illustration, "Devolution versus Evolution."
Questions for people of faith:
Shouldn't people with faith that a Deity created free will recognize that compulsory piety would be offensive to such Deity?
Shouldn't people with faith that a Deity created free will recognize that political compromises limiting the power of government to compel conformity with theocratic doctrines over which other people of faith, as well as secular thinkers, can reasonably disagree would not be offensive to such Deity? See commentary about our Founding Documents, the Constitution and the Creator.






























end

Donate your frequent-flier miles to military personnel to return home from port of reentry on leave: www.HeroMiles.Org.

| | |
| --- | --- |
| ·support our troops, support Bush, support Cheney, support victory in Iraq, support victory in Afghanistan, Clinton Liebrary, http://PoliSat.Com , PoliSatDOTcom, Salute America's Heroes, Fallen Heroes Fund, oppose Gore's Global Warming theory, support milblogs, Michael Yon, Pat Dollard, BlackFive, MilBlogs, MilBlogging, Michael Yon, Mudville Gazette, HotAir.Com, JawaReport, PajamasMedia , VictoryCaucus , VetsForFreedom , FreedomsWatch , DayByDayCartoon , WrennCom.Com , Video , Political Satire, Politics, News, oppose MoveOn.Org, oppose Code Pink, oppose DailyKos, oppose ANSWER, support PoliSat.Com, support WrennCom.Com, · | |

Other sites that feature PoliSat.Com's Political Satire/Commentary-- Click here to view our Affiliates page.