·
About Archives (Old Archives) Contact Search PoliticalxRay/PoliSat.Com News Troops
Nov. 10, 2004 #01: Political Satire/Commentary where satire is always commentary but commentary isn't always satire™ (but we're confident you'll know the difference) Search PoliSat.Com Home Tell a friend about PoliSat.Com Subscribe Permanent link to this installment in PoliSat.Com's Archives Google-News list of recent updates About author, Jim Wrenn.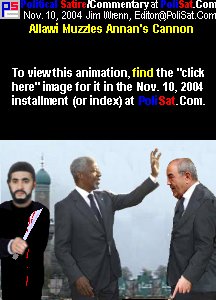 Iraq's Prime Minister Iyad Allawi rebukes Kofi Annan for opposing force in Fallujah; France weeps for Yasser Arafat; Christopher Hitchens rebukes Leftists equating Christians with Islamic Fascists.
After Kofi Annan sent a letter to Iraq's Interim Prime Minister Iyad Allawi condemning Allawi's authorization of Operation Dawn for a full-scale attack on Fallujah by Coalition and Iraqi forces, Allawi sent Annan a reply drawing attention to the utter failure of Annan's letter to even mention the barbaric terrorism being inflicted upon Iraqis and everyone else by the Sunni dead-enders and foreign-born Islamic terrorists using Fallujah as an operational base. The contrast between the predictable intellectual and moral paralysis of the United Nations so effectively exemplified by Kofi Annan and the political, moral and personal courage of Iyad Allawi could not be more stark.
Allawi Muzzles Annan's "Cannon"
I say to Fallujahns, "We must attack
your city to free you from the clutches
of the barbaric terrorists from whose
grip you are unable to free yourselves."

STOP! Your attacking Fallujah will
destroy your chances for building a
peaceful Iraq! Trust me, I know how
to handle these things-- Just ask all
those Iraqi babies I saved with the
"Fools for Oil" program.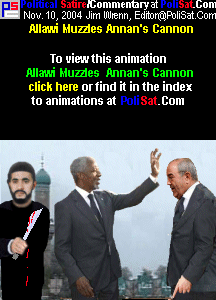 I say to Fallujahns "We must
use force in Fallujah to crush
the terrorists' grip
your city can't rip
away so that votes you can trust."

I'm Kofi demanding beforehand
your plan you must promptly reprogram
to use, 'stead of cannon
Diplomacy Canons
like those in the "Fools for Oil" Program.

I say, with regret, Kofi Annan,
your fancy Diplomacy Canons
can never decree
"Fallujahns are free"
'til terror is banished by cannon.

It's foolish, I've learned, Mr. Annan,
naively to trust in your Canons
against terror's muscles,
so now I must muzzle
that hole in your make-pretend cannon.
Meanwhile, France weeps for Yasser Arafat (but not for the countless victims of his terrorist organizations). One wonders if the French could manage to exhibit more than token sympathy for an Israeli leader in comparable circumstances. What has led to the resurrection of Vichy France? Perhaps their Vichy instincts were merely kept below the surface during the period between the defeat of Nazism and the collapse of the Soviet Union.
Ever eager to emulate the French, the American Left launches a no-holes-barred propaganda campaign attempting to equate American Christians (who voted for George W.Bush) with Islamic Fascists. Few have exposed the intellectual and moral bankruptcy of this stance by the American Left more effectively, lucidly and devastatingly than one of the few unrepentantly leftist supporters of Bush's strategy in the war against Islamic terrorism, Christopher Hitchens. See his November 9, 2004, column, "Bush's Secularist Triumph" (subtitled", "The left apologizes for religious fanatics. The president fights them" [here]. Regardless of whatever any "conservative" may say or think about Hitchens' left-of-center social and economic views, no one could dispute his intellectual and moral integrity. Hitchens has repeatedly proven himself to be one who values his intellectual and moral integrity far more than he fears adverse effects on his personal and/or economic interests. Even though his status as an atheist unnecessarily makes him petulant in his condemnation of religious believers, he possesses in spades the intellectual capacity utterly absent in the mindset of the American Left-- i.e., the ability to understand that American Christians who supported Bush are nearly secular in their thinking compared to the Islamic Fascists and far less fanatical in their thinking than those on the American Left equating American Christians with Islamic Fascists.
--Jim Wrenn, Editor at PoliSat.Com.
Installment immediately preceding the one above, go here.
Recent Political Satire/Commentary Animations-- See thumbnails below GoogleAds (below).


Recent Political Satire/Commentary Animations-- Click image to play.













Mor

e Animations: Text-Index/Images-Index.

Donate your frequent-flier miles to military personnel to return home from port of reentry on leave: www.HeroMiles.Org.

| | |
| --- | --- |
| ·support our troops, support Bush, support Cheney, support victory in Iraq, support victory in Afghanistan, Clinton Liebrary, http://PoliSat.Com , PoliSatDOTcom, Salute America's Heroes, Fallen Heroes Fund, oppose Gore's Global Warming theory, support milblogs, Michael Yon, Pat Dollard, BlackFive, MilBlogs, MilBlogging, Michael Yon, Mudville Gazette, HotAir.Com, JawaReport, PajamasMedia , VictoryCaucus , VetsForFreedom , FreedomsWatch , DayByDayCartoon , WrennCom.Com , Video , Political Satire, Politics, News, oppose MoveOn.Org, oppose Code Pink, oppose DailyKos, oppose ANSWER, support PoliSat.Com, support WrennCom.Com, · | |

Other sites that feature PoliSat.Com's Political Satire/Commentary-- Click here to view our Affiliates page.