| | |
| --- | --- |
| ·support our troops, support Bush, support Cheney, support victory in Iraq, support victory in Afghanistan, Clinton Liebrary, http://PoliSat.Com , PoliSatDOTcom, Salute America's Heroes, Fallen Heroes Fund, oppose Gore's Global Warming theory, support milblogs, Michael Yon, Pat Dollard, BlackFive, MilBlogs, MilBlogging, Michael Yon, Mudville Gazette, HotAir.Com, JawaReport, PajamasMedia , VictoryCaucus , VetsForFreedom , FreedomsWatch , DayByDayCartoon , WrennCom.Com , Video , Political Satire, Politics, News, oppose MoveOn.Org, oppose Code Pink, oppose DailyKos, oppose ANSWER, support PoliSat.Com, support WrennCom.Com, · | |
Archives-- Installments for July 21--31, 2006, starting below in reverse chronological order.
July 25, 2006--
William F. Buckley, Jr. says George W. Bush "not a true conservative"; Bush prescribes "compassionately conservative" treatment for Buckley's Paleo-Face countenance resembling Pat Buchanan.. ·
. William F. Buckley shook the very foundations of "conservative thought" by saying George W. Bush "is not a true conservative." Buckley made the statement in an interview with CBS News at his home in Connecticut. The video-box to the left provides excerpts from the interview in the form of a mid-size video for medium-speed connections. (Larger/smaller versions for faster/slower connections are available at http://PoliSat.Com/PaleoFace.htm.)
Recognizing Buckley's having contracted the dreaded Paleo-Faced Countenance of Pat Buchanan, Bush responded in a typically compassionately conservative manner by prescribing exercises to improve the flow of oxygenated blood to Buckley's cranium. Bush even offered Buckley a regular walker to replace the pitchfork walking-stick Buckley accidentally picked-up while sitting next to Buchanan at a recent symposium on Plato's view of NAFTA.
Also hoping to encourage Buckley to promptly seek treatment for the Paleo-Face condition, Bush also gave him tickets to a popular new political documentary titled, "2006 Election Fulcrum." In a style similar to those 1940's Army training films about the dangers of socializing with promiscuous women, this prescient documentary by PoliSat.Com's political paleontologist, who's also PoliSat.Com's Washington Bureau Drawer Chief, shows the stark dangers of contracting the Paleo-Face Countenance.
Soon after Buckley's announcement that Bush isn't a "true" conservative, John Kerry sought to regain the spotlight by announcing, "None of the problems we're now experiencing would have occurred if I were to have been elected President." However, Kerry's announcement was virtually drowned-out by the rapidly increasing popularity of another political-exposé video titled, "Wilson-Plame--CIA-APM," also produced by PoliSat.Com's renowned producer of political-paleontology videos.
--Jim Wrenn, Editor at PoliSat.Com.
Note: The permanent link to this installment is http://PoliSat.Com/PaleoFace.htm , where there are other versions of the video below for other sizes/connection-speeds.
Daily Update immediately preceding the one above: Go here or find it in the chronological Index of Archives here.
---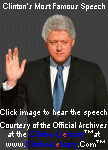 Sites that Feature PoliSat.Com: