| | |
| --- | --- |
| ·support our troops, support Bush, support Cheney, support victory in Iraq, support victory in Afghanistan, Clinton Liebrary, http://PoliSat.Com , PoliSatDOTcom, Salute America's Heroes, Fallen Heroes Fund, oppose Gore's Global Warming theory, support milblogs, Michael Yon, Pat Dollard, BlackFive, MilBlogs, MilBlogging, Michael Yon, Mudville Gazette, HotAir.Com, JawaReport, PajamasMedia , VictoryCaucus , VetsForFreedom , FreedomsWatch , DayByDayCartoon , WrennCom.Com , Video , Political Satire, Politics, News, oppose MoveOn.Org, oppose Code Pink, oppose DailyKos, oppose ANSWER, support PoliSat.Com, support WrennCom.Com, · | |
Archives-- Installments for April 21, 2006 through April 30, 2006, starting below in reverse chronological order.
April 26, 2006--
Bush's new Press Secretary, Tony Snow, denies formulating Bush's response to Hillary Clinton's latest salvo at Donald Rumsfeld in video titled "Firing Rumsfeld Episode X."
In a video obtained exclusively by PoliSat.Com from highly unreliable sources inside the White House, George W. Bush responds to Hillary Clinton joining the latest salvo against Donald Rumsfeld. This is the tenth episode of efforts by Clinton and other critics of Bush's strategy in Iraq to create political pressure to force Bush to fire Rumsfeld. Thus far, all other efforts have failed.
In the past, Bush has doggedly reaffirmed his support for Rumsfeld. This time, however, the critics are so unrelenting, that Bush is now being forced into a position of "firing Rumsfeld."
Some pundits questioned the timing of this video by speculating that Tony Snow, whose appointment as the new Press Secretary for Bush (beginning next week) was announced today, may have demanded that the White House respond in such manner to the latest attacks on Rumsfeld. Snow's colleagues in the media speculated that he must have demanded that Bush put-to-rest the Rumsfeld/media problem by acting decisively so that Snow can begin his new job without having to deal with episode ten of the "Firing Rumsfeld" saga. However, Snow, best known for his polite, yet forceful, candor, said, "I had nothing to do with this video."
PoliSat.Com's Washington Bureau Drawer Chief responded to such rumors by categorically stating that Tony Snow is not PoliSat.Com's "highly unreliable source" and that PoliSat.Com has "unimpeachable evidence" that the strategy for Bush's response in "Firing Rumsfeld Episode X" was planned well before Snow was even considered as a replacement for Scott McClellan. As a public service, this video, obtained exclusively by PoliSat.Com's Washington Bureau Drawer Chief, is being made available (with this installment) to satisfy the public's "need to know." For posterity's sake, the permanent link to this installment is http://PoliSat.Com/Firing_Rumsfeld_Episode_X.htm, where larger/smaller, faster/slower-loading versions of the video are also available.
--Jim Wrenn, Editor at PoliSat.Com.
Daily Update immediately preceding the one above: Go here or find it in the chronological Index of Archives here.
---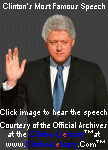 Sites that Feature PoliSat.Com: