Sept. 18, 2004 #01: Political Satire/Commentary where satire is always commentary but commentary isn't always satire™
(but we're confident you'll know the difference) Search PoliSat.Com Home Tell a friend about PoliSat.Com Subscribe
Permanent link to this installment in PoliSat.Com's Archives Google-News list of recent updates About author, Jim Wrenn.
John Kerry's Quagmire and Dan Rather's Quagmire in the 60-Minutes Memo-Gate and Rather's campaign commercials for Kerry and MoveOn.Org.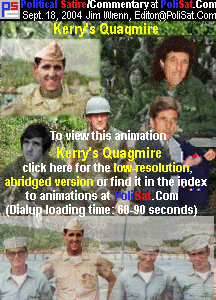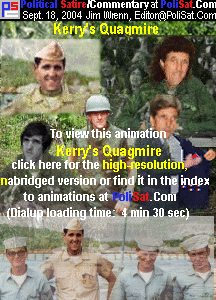 How ironic that MoveOn.Org chose to begin it's disgusting campaign commercial showing an American soldier sinking in "quicksand" in Iraq in the same week in which Dan Rather and CBS exhibited a remarkable preference for sinking in quicksand. Needless to day, commercials such as that not only demoralize our troops but also give our enemies reason to hope that they could change the course of our country's policy the same way they changed the course of Spain's policy.
They are sadly mistaken. The MoveOn.Org ad will increase, not diminish, support for Bush. It will not inspire support for Kerry. We're all quite lucky that during the Battle of the Bulge, there was no international television on which groups like MoveOn.Org could broadcast such disgusting material.
What about CBS? Although PoliSat.Com's highly unreliable sources at first indicated Dan Rather was planning to reveal his secret identity [here], a few days later, it appeared that Dan and CBS and 60 Minutes had decided to offer an explanation less plausible than re-postulating Einstein's Theory of Relativity-- See "Back to the Future in 60 Minutes with Dan Rather" [here]. And then, when no one thought Dan and CBS and 60 Minutes could possibly continue holding out against admitting their "mistakes," they began working on a campaign-style commercial to "lay everything on the table," titled "Hi-- I'm Dan Rather and I Approved this Ad" [here].
Thus, ironically, Dan Rather and 60 Minutes are showing they have much in common with Kerry-- i.e., they all share a fondness for sinking in quicksand. How does PoliSat.Com know this? Because our highly unreliable sources have furnished to our Washington Bureau Drawer Chief an out-take of a campaign commercial for Kerry that went wrong-- it's just didn't go the way they planned it and, of course, the Kerry campaign was hoping it would never see the light of day. However, with far greater investigative expertise than demonstrated by 60 Minutes, PoliSat.Com has obtained a copy of this tape. The full, unabridged version takes 4 minutes and 30 seconds to download (at dialup speed), but we've prepared a lower-resolution, abridged version to convey the gist of how the commercial began going wrong during production, but if you want to know what Paul Harvey defines as "the rest of the story," you'll have to view the high-resolution, unabridged version.
For more information about the period leading up to what has now become known as "Memo-Gate," see PoliSat.Com's installment about "Swiftboat Journalism" [here]. Meanwhile, stay tuned to PoliSat.Com for more "breaking" reports on Campaign 2004.
Installment immediately preceding the one above, go here.
Recent Political Satire/Commentary Animations-- Click image to play. More: Text-Index/Images-Index.



























Donate your frequent-flier miles to military personnel to return home from port of reentry on leave: www.HeroMiles.Org.

| | |
| --- | --- |
| ·support our troops, support Bush, support Cheney, support victory in Iraq, support victory in Afghanistan, Clinton Liebrary, http://PoliSat.Com , PoliSatDOTcom, Salute America's Heroes, Fallen Heroes Fund, oppose Gore's Global Warming theory, support milblogs, Michael Yon, Pat Dollard, BlackFive, MilBlogs, MilBlogging, Michael Yon, Mudville Gazette, HotAir.Com, JawaReport, PajamasMedia , VictoryCaucus , VetsForFreedom , FreedomsWatch , DayByDayCartoon , WrennCom.Com , Video , Political Satire, Politics, News, oppose MoveOn.Org, oppose Code Pink, oppose DailyKos, oppose ANSWER, support PoliSat.Com, support WrennCom.Com, · | |

Other sites that feature PoliSat.Com's Political Satire/Commentary-- Click here to view our Affiliates page.