Nov. 11, 2004 #01: Political Satire/Commentary where satire is always commentary but commentary isn't always satire™ (but we're confident you'll know the difference) Search PoliSat.Com Home Tell a friend about PoliSat.Com Subscribe Permanent link to this installment in PoliSat.Com's Archives Google-News list of recent updates About author, Jim Wrenn.
Veterans' Day-- Americans say "Thanks in Our Name for Deeds in Our Name" to troops fighting terror while Yasser Arafat's terrorist "legacy" is honored by Jacques Chirac and Kofi Annan.
What a spectacle produced by the death of Yasser Arafat. Jacques Chirac, France, Kofi Annan and their ilk denigrate the memories of the thousands of victims of Yasser Arafat's terrorist tactics by according Arafat the status of "statesman" in providing ceremonial pomp for the departure of his body from France. This stands in contrast to Chirac's and France's continuing, long-standing denigration of the mission of Coalition troops heroically battling terrorism in Iraq.
Today being Veteran's Day warrants repeat of a special commentary by PoliSat.Com. In contrast to France, Chirac, Annan, et al, all Americans reiterate to our troops the following sentiments:
To Citizen Soldiers a Song to Explain
How Proudly We Thank You for Deeds in Our Names.
From farms in the country, from cities and towns,
from places quite humble, from places renowned,
from fact'ries, from stores and from offices tall,
from service professions, from stores in our malls,
come citizen soldiers their country to serve
as full time professionals or guard or reserve.

From mothers and fathers and husbands and wives,
from children and lovers and friends in their lives,
our citizen soldiers depart despite tears
on missions of danger in spite of their fears
as selflessly, proudly, and bravely they serve
that freedom of conscience and Faith be preserved.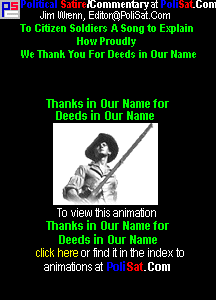 In caves and in tunnels where murderers train
unspeakable terror they face in our name.
With principled discipline, training and skill
in taming the instinct to kill or be killed
our citizen soldiers have honored our name,
so, proudly we thank them for deeds in our name.

They serve in the skies, and at sea and on land,
in mountains and jungles and deserts of sand,
on foot and in foxholes, in trenches and tents,
in tanks and on submarine mission descents,
in planes and on ships and on carrier decks,
in Humvees, and hangars and convoys on treks.

For risks to themselves in their battles with terrors
increased by attempts to use force without error,
for risks to themselves they increase by providing
assistance to those who for freedom are striving,
our citizen soldiers have honored our name,
so thank them we must for their deeds in our name.

So we and posterity freedom retain
barbaric regimes you confront in our name.
To you who defend us, we proudly proclaim
our pride in the deeds you have done in our name.
We thank you, we thank you for deeds in our name,
We thank you, we thank you for deeds in our name.·


Shouldn't we be at least as generous in supporting the families of our troops killed or injured while serving our country in Afghanistan, Iraq, in America and throughout the rest of the world as we were for the families of the victims of 9-11? Here are some suggestions: *Salute American Heroes* and *Support Fallen Heroes Fund*
--Jim Wrenn, Editor at PoliSat.Com.
···
Copyright, November, 2003, by James R. Wrenn, Jr., Editor at PoliSat.Com. Note to visitors: I'm in the process of arranging for recording and production of this song, which I authored to honor those who serve us in the military. --Jim Wrenn, Editor@PoliSat.Com.·

Installment immediately preceding the one above, go here.
Donate your frequent-flier miles to military personnel to return home from port of reentry on leave: www.HeroMiles.Org.

| | |
| --- | --- |
| ·support our troops, support Bush, support Cheney, support victory in Iraq, support victory in Afghanistan, Clinton Liebrary, http://PoliSat.Com , PoliSatDOTcom, Salute America's Heroes, Fallen Heroes Fund, oppose Gore's Global Warming theory, support milblogs, Michael Yon, Pat Dollard, BlackFive, MilBlogs, MilBlogging, Michael Yon, Mudville Gazette, HotAir.Com, JawaReport, PajamasMedia , VictoryCaucus , VetsForFreedom , FreedomsWatch , DayByDayCartoon , WrennCom.Com , Video , Political Satire, Politics, News, oppose MoveOn.Org, oppose Code Pink, oppose DailyKos, oppose ANSWER, support PoliSat.Com, support WrennCom.Com, · | |

Other sites that feature PoliSat.Com's Political Satire/Commentary-- Click here to view our Affiliates page.