Oct. 10, 2004 #01: Political Satire/Commentary where satire is always commentary but commentary isn't always satire™
(but we're confident you'll know the difference) Search PoliSat.Com Home Tell a friend about PoliSat.Com Subscribe
Permanent link to this installment in PoliSat.Com's Archives Google-News list of recent updates About author, Jim Wrenn.
Australians re-elect John Howard-- Aussies rebuke John Kerry and embrace George Bush-- Thanks from the Yanks playing Waltzing Matilda-- Commentary.
To express our thanks to Australians for solidly re-electing John Howard on October 9, 2004, by whose courageous decision Australian troops are supporting American troops in Iraq, we're displaying the insignia of the Australian Army, Navy and Air Force linked to the Australian Navy Band's version of Waltzing Matilda, the much-beloved unofficial Australian National Anthem. No doubt it's a boost to the morale of our troops that Australians solidly rejected Howard's opponent, Mark Latham, who campaigned on a platform echoing John Kerry's "wrong war, wrong place, wrong time" theme and promising to withdraw Australian troops from Iraq by Christmas if he were to have won. This historic vote in Australia repudiated John Kerry's Simultaneous Flip-Flop being peddled in Australia by Latham with vocal support from representatives of the Kerry Campaign in Australia as a part of his international campaign for absentee votes by Americans abroad.
To show Yankee appreciation for Aussie steadfastness, click any of the images below to play the "unofficial" Australian National Anthem, Waltzing Matilda. Doing this will trigger the website of the Australian Navy Band to play Waltzing Matilda and will say "thanks" from the "Yanks" to the Australian military. (It may take a couple of minutes for it to load at dialup speed, but it's worth the wait as a way to say to the Aussies, "Thanks from the Yanks" for sticking with us.)
Perhaps Australians' recognition of the degree of Yankee appreciation for their steadfastness will inspire them to increase their support for us. Everyone knows the Howard administration's fear of being ousted by what had appeared to be strong pro-Kerry, anti-Bush sentiment in Australia had imposed a practical limitation on Howard's ability to strengthen Australia's support for Operation Iraqi Freedom.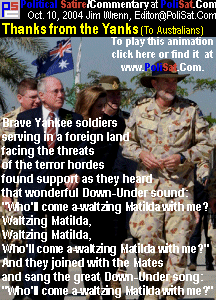 Thanks from the Yanks.
Lyrics by Jim Wrenn, Editor at PoliSat.Com, to be sung to the tune of Waltzing Matilda. To sing the lyrics with the tune, click here or click one of the images above.
Brave Yankee soldiers
serving in a foreign land
facing the threats
of the terror hordes
found support as they heard
that wonderful Down-Under sound:
"Who'll come a-waltzing Matilda with me?
Waltzing Matilda,
Waltzing Matilda,
Who'll come a-waltzing Matilda with me?"
And they joined with the Mates
and sang the great Down-Under song:
"Who'll come a-waltzing Matilda with me?"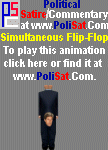 To view the animation illustrating Kerry's Simultaneous Flip-Flop, click here or click the image to the right. The entire text of the September 28, 2004, commentary which that animation illustrates is here. Apart from the Australian election results exhibiting a repudiation of Latham's intensely anti-war campaign echoing John Kerry's "wrong war, wrong place, wrong time" platform, its seems obvious that the same results strengthen Bush's "right war, right place, right time" platform even in the international arena despite the dissatisfaction, and surely to the consternation, of the French.
It will be interesting to see how the dominant media-- such as ABC News (here), CBS News (here) and NBC News (here) -- "spin" the victory in Australia. Doubtless, they will want to minimize the extent to which it strengthens Bush against Kerry. Can other media counter-balance the dominant media's likely effort to do so? If the current trend of self-discrediting behavior by the dominant media continues, the answer is undoubtedly yes.
--Jim Wrenn, Editor at PoliSat.Com
Installment immediately preceding the one above, go here.
Recent Political Satire/Commentary Animations-- Click image to play. More: Text-Index/Images-Index.























Donate your frequent-flier miles to military personnel to return home from port of reentry on leave: www.HeroMiles.Org.

| | |
| --- | --- |
| ·support our troops, support Bush, support Cheney, support victory in Iraq, support victory in Afghanistan, Clinton Liebrary, http://PoliSat.Com , PoliSatDOTcom, Salute America's Heroes, Fallen Heroes Fund, oppose Gore's Global Warming theory, support milblogs, Michael Yon, Pat Dollard, BlackFive, MilBlogs, MilBlogging, Michael Yon, Mudville Gazette, HotAir.Com, JawaReport, PajamasMedia , VictoryCaucus , VetsForFreedom , FreedomsWatch , DayByDayCartoon , WrennCom.Com , Video , Political Satire, Politics, News, oppose MoveOn.Org, oppose Code Pink, oppose DailyKos, oppose ANSWER, support PoliSat.Com, support WrennCom.Com, · | |

Other sites that feature PoliSat.Com's Political Satire/Commentary-- Click here to view our Affiliates page.