Oct. 9, 2004 #01: Political Satire/Commentary where satire is always commentary but commentary isn't always satire™
(but we're confident you'll know the difference) Search PoliSat.Com Home Tell a friend about PoliSat.Com Subscribe
Permanent link to this installment in PoliSat.Com's Archives Google-News list of recent updates About author, Jim Wrenn.
Town-Hall Debate-- In second Bush-Kerry debate, John Kerry makes Clintonesque denial: "I did not have different positions with that war, Iraq"; George Bush smirks again.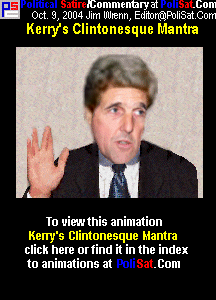 Reeling from the initial question posed at the Bush-Kerry Town Hall debate by a questioner asking what she should tell her co-workers who say Kerry "waffles too much," John Kerry paused, stood erect and thrust a firm response: "I have have not had changes in my positions with that war." In his response to Kerry's answer, George Bush asked (with an irksome smirk), "Does that depend on what the meaning of 'position' 'is' ?"
Midway though the debate, one of the questioners asked Kerry how he planned to solve the health-care problems caused by frivolous medical-malpractice lawsuits. Kerry surprised everyone by stating that he could support some limitations but also stressed the importance of a Patients' Bill of Rights to sue doctors for malpractice, such as the breach of confidentiality by a cosmetic surgeon leaking to the media the fact that a presidential candidate received injections of Botox to achieve a less aged appearance. In a brief rebuttal to Kerry's answer to this health-care question, Bush took pains to make facial expressions drawing attention to the wrinkles and age-lines on his face in reasserting his position in favor of imposing caps on punitive damages and attorney's fees.
One of the questioners asked Kerry to explain how his plan for Iraq would differ from Bush's plan. Kerry responded that he would "bring more allies to the table." Response to Kerry's answer, Bush explained the inherently contradictory nature of Kerry's claim that he could persuade more "allies" to join what Kerry now describes as "the wrong war at the wrong place at the wrong time." Although Bush alluded to those portions of the Duelfer Report indicating that Saddam Hussein was "gaming the system" of the "oil for food" program to continue undermining the sanctions, diplomatic restraints prevented him from saying what he wanted to say. However, PoliSat.Com's top-secret, parabolic brain-wave reader intercepted Bush's thought patterns to reveal what Bush wanted to say:
We now know from the Duelfer Report and from the revelations in the ongoing investigation of the U.N.-run "Oil for Food" program that the "allies" that Kerry says he could "bring to the table" have been "at the table" all along except that were there for the limited purpose of taking bribes under the table from Saddam Hussein to defeat the very sanctions those "allies" were falsely claiming they were "supporting."
When the last questioner asked Bush to list and explain "three mistakes" he's made as President, he declined to do so. Again, PoliSat.Com's top-secret, parabolic brain-wave reader was able to detect the three examples Bush wanted to list. Here's our translation showing how he wanted to answer the question:
My first mistake was taking the word of the French given to Colin Powell and me that they would not oppose the use of force, my second mistake was not then understanding that the Axis of Weasels, masquerading as our "allies" on the U.N. Security Counsel, were accepting Oil-For-Food bribes from Saddam Hussein to sabotage our efforts to enforce U.N. sanctions, and my third mistake was assuming that Senator Kerry would not try to weasel out of his vote authorizing the use of force.
During the post-debate spin, ABC News was trying to explain the latest discovery of Dan Ratherism being prevalent within ABC News. Meanwhile, Chris Matthews and NBC News' Brian Williams were trying to determine the best way to quote Bush out of context in such a way as to convey the opposite meaning of what he said in the same way they quoted Dick Cheney so completely out of context on October 6, 2004, as to falsely portray a prior statement by Dick Cheney on "Meet the Press" as though it contradicted, rather than supported, Cheney's statement during the Cheney-Edwards debate that he had never claimed Iraq was involved in the 9-11 attack. Doubting that MSNBC and NBC will long preserve the record of these distortions, PoliSat.Com has incorporated them into a special page aptly titled: "Chris Matthews and Brian Williams Slander Dick Cheney" (here).
--Jim Wrenn, Editor at PoliSat.Com.
Installment immediately preceding the one above, go here.
Recent Political Satire/Commentary Animations-- Click image to play. More: Text-Index/Images-Index.
























Donate your frequent-flier miles to military personnel to return home from port of reentry on leave: www.HeroMiles.Org.

| | |
| --- | --- |
| ·support our troops, support Bush, support Cheney, support victory in Iraq, support victory in Afghanistan, Clinton Liebrary, http://PoliSat.Com , PoliSatDOTcom, Salute America's Heroes, Fallen Heroes Fund, oppose Gore's Global Warming theory, support milblogs, Michael Yon, Pat Dollard, BlackFive, MilBlogs, MilBlogging, Michael Yon, Mudville Gazette, HotAir.Com, JawaReport, PajamasMedia , VictoryCaucus , VetsForFreedom , FreedomsWatch , DayByDayCartoon , WrennCom.Com , Video , Political Satire, Politics, News, oppose MoveOn.Org, oppose Code Pink, oppose DailyKos, oppose ANSWER, support PoliSat.Com, support WrennCom.Com, · | |

Other sites that feature PoliSat.Com's Political Satire/Commentary-- Click here to view our Affiliates page.