Sept. 20, 2004 #01: Political Satire/Commentary where satire is always commentary but commentary isn't always satire™
(but we're confident you'll know the difference) Search PoliSat.Com Home Tell a friend about PoliSat.Com Subscribe
Permanent link to this installment in PoliSat.Com's Archives Google-News list of recent updates About author, Jim Wrenn.
Dan Rather apologizes for being "unable to prove" defamatory charges against George W. Bush, denies having a partisan bias, dismisses the CBS 60 Minutes "Memo-Gate" a.k.a. "MemoGate" as a "third-rate journalistic error," and proclaims "I am not a partisan hack."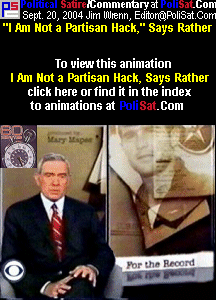 Today, Dan Rather, CBS News and 60 Minutes shocked the world by revealing a long list of things they "can't prove": First, they admit they "can't prove" the "authenticity" of documents known by the rest of the world to have been forgeries to claim that George W. Bush disobeyed orders for fulfilling his Air National Guard obligations. They also admitted they cannot prove aliens landed in Roswell and visited the White House in 1949. Rather added that he can't prove that Republicans sent the aliens to land in Roswell as a ploy to have them meet personally with Harry Truman in an effort to attempt to intimidate him into asking for a recount of the 1948 election and to then concede victory to Dewey.
Demanding public understanding of his "good faith" in publishing the forged documents he "can't prove to have been authentic," Rather held a press conference to "shine the light of truth" on comparable "shortcomings" of other news organizations:
For example, ABC News has never been able to prove the existence of "Bigfoot." NBC News has never been able to prove Kilroy was ever actually "here" or "there." CNN has never been able to prove that Peter Arnett actually drank milk from the "Baby Milk Factory." Fox News has never been able to prove that I am a partisan hack. (By the way, "I am not a hack.") The New York Times has never been able to prove that George finally stopped beating Laura. The Los Angeles Times has never been able to prove that Arnold Schwarzenegger fondled Mother Teresa. None of the world's best news organizations was ever able to prove that in the fall of 1980, George Herbert Walker Bush secretly flew the Blackbird in a eight-hour round-trip to France to meet with Bani Sadr to persuade him to persuade the Ayatollah Khomeni not to release the American diplomats held hostage in the U.S. Embassy in Tehran until after the 1980 election. The Washington Post has never been able to prove that George W. Bush prefers yellow cake rather than white cake. The Atlanta Journal & Constitution has never been able to prove that Zell Miller underwent a sex-change operation. ABC News was never able to prove Food Lion marketed spoiled meat. NBC News was unable to prove fuel tanks on G.M. trucks would spontaneously explode in side-on collisions. In the summer of 2000, I was unable to 'prove' that 'Republican operatives' had illegally 'leaked' information about the Independent Prosecutor's probe into the Clinton scandals on the eve of Al Gore's acceptance speech.°¹ So there you have it. No one's perfect, not even I.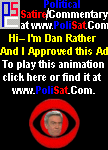 Noticing that most of the cheering following these remarks came from a group of John Kerry supporters who had assembled to give "moral support" to Rather for his courage in admitting he simply was unable to "prove what everyone knows is true," Rather vowed to "fight on" rather than surrender the "independence" and "integrity" of CBS to the "right wing zealots who object to our error in judgment in using false evidence to prove what we're certain is a true story." Caught up in the enthusiasm of his supporters, Rather vowed that from now until the election, CBS will focus the entirety of its considerable investigative assets "getting to the bottom" of the most important issue facing the American electorate in the new few weeks: "Why didn't George W. Bush re-enlist in the Air Force in late 1972 for an additional two years of flight training to learn to fly the fighter plane in the inventory of the Alabama Air National Guard and/or the Harvard University Air National Guard for the remaining months of his six-year term in the Air National Guard?"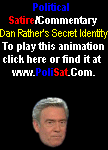 After launching into a stunning exposé explaining how dirty-tricksters in the Bush campaign deceived CBS by failing to immediately identify the CBS documents as forgeries and thereby forced him to rely upon the documents he had obtained from a Democratic political hack, Rather said, "This is the same thing they did to John McCain in South Carolina." Striking an even more indignant tone, Rather said, "Americans are entitled to know whether their CBS News anchorman is a "partisan hack." Buoyed by the warm reception, Rather raised both arms with each hand making the universally understood "vee" symbol for "victory," Rather proudly proclaimed, "I am not a partisan hack."
As the crowd began dispersing, Rather waxed poetic and reiterated his stunning press conference in rhythm and rhyme. Fortunately, PoliSat.Com's Washington Bureau Drawer Chief, who attended this news conference, and recorded this extraordinary event for posterity: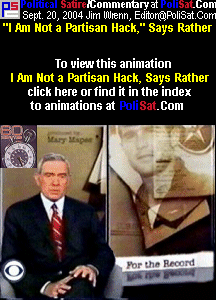 "I Am Not a Partisan Hack" Says Rather.
I'm Dan, who would Rather admit
that some of the pieces don't fit
in "news" I reported
because I resorted
to trusting in others-- that's it.
To please my producer named Mapes,
I read what she wrote to be taped--
My error was clearly
to trust what was merely
a third-rate producer's mistake.
Though fraud I purveyed to attack
the Dubya, I cling to the facts.
alleged by my source,
a donkey-- of course,
I am not a partisan hack.
Meanwhile, John Kerry was busy contradicting, reiterating, and then re-contradicting each substantive thing he has said about Iraq since the beginning of his campaign for the Presidency. PoliSat.Com has learned from its usually highly unreliable sources that after Dan Rather gave his non-apology apology this afternoon, he sent an email to John Kerry remarking, "I see that you've decided to join me-- come on in-- the quicksand's fine." This was a Freudian slip reference to Kerry's campaign having exhibited the same tendency of creating its own quagmire as did Dan Rather, CBS and 60 Minutes: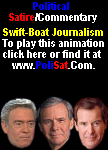 °¹.Editor's note: For a blatant example of Dan Rather's long track record as an intensely partisan "news" reporter, see his August 17, 2000, commentary suggesting "Republicans" were the source of a "leak" from the office of the Independent Counsel, Robert Ray, regarding the Clinton scandals on the eve of Al Gore's acceptance speech Taking partisan leaps of faith in making allegations thus doesn't come new to Dan Rather. Knowing that CBS would ultimately remove the offending article from the internet, PoliSat.Com preserved an accurate copy for posterity at http://polisat.com/ratherblather.htm. That CBS link now shows current versions of the CBS news website rather than the version as it existed on August 19, 2000, regarding Dan Rather's August 17, 2000, commentary. It's not in the WayBackMachine, but it's surely somewhere within the archives of CBS. To find links to numerous then-contemporaneous references to it, do an advanced Google search for "Dan Rather" and "Robert Ray" and "August 17, 2000."
--Jim Wrenn, Editor at PoliSat.Com.
Installment immediately preceding the one above, go here.
Recent Political Satire/Commentary Animations-- Click image to play. More: Text-Index/Images-Index.





























Donate your frequent-flier miles to military personnel to return home from port of reentry on leave: www.HeroMiles.Org.

| | |
| --- | --- |
| ·support our troops, support Bush, support Cheney, support victory in Iraq, support victory in Afghanistan, Clinton Liebrary, http://PoliSat.Com , PoliSatDOTcom, Salute America's Heroes, Fallen Heroes Fund, oppose Gore's Global Warming theory, support milblogs, Michael Yon, Pat Dollard, BlackFive, MilBlogs, MilBlogging, Michael Yon, Mudville Gazette, HotAir.Com, JawaReport, PajamasMedia , VictoryCaucus , VetsForFreedom , FreedomsWatch , DayByDayCartoon , WrennCom.Com , Video , Political Satire, Politics, News, oppose MoveOn.Org, oppose Code Pink, oppose DailyKos, oppose ANSWER, support PoliSat.Com, support WrennCom.Com, · | |

Other sites that feature PoliSat.Com's Political Satire/Commentary-- Click here to view our Affiliates page.