Sept. 17, 2004 #01: Political Satire/Commentary where satire is always commentary but commentary isn't always satire™
(but we're confident you'll know the difference) Search PoliSat.Com Home Tell a friend about PoliSat.Com Subscribe
Permanent link to this installment in PoliSat.Com's Archives Google-News list of recent updates About author, Jim Wrenn.
60 Minutes Memo-Gate spawns new ad by Dan Rather-- Hi, I'm Dan Rather and I approved this message against George W. Bush.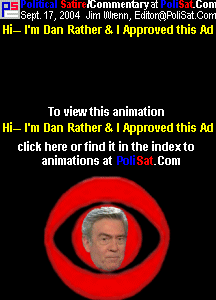 Hi, I'm Dan Rather with CBS and I approved this ad against George W. Bush. So-what if we broadcast fraudulent documents claiming Bush shirked his duties as a member of the Texas Air National Guard? Our highly reliable Kerry supporters have assured us the information in these fraudulent documents is true: That Bush got special treatment to get into the Air National Guard; that midway though his fifth year he transferred to an Alabama unit to take a job working in a political campaign, after which he failed to fly any more, failed to report for a mandatory flight physical, and then failed to register with a new unit when he transferred to Boston to attend Harvard Business School.
So-what if neither the Alabama unit nor the unit near Harvard had the kind of fighter he was qualified to fly? So-what if in order to fly planes for either of those units would have required him to re-enter active duty for training requiring between one and two years? So-what if it was routine in the Air National Guard, the Army National Guard, the Army Reserves and the Naval Reserves for units to make accommodations to members relocating for employment and/or for educational purposes?
So-what if the widow and son of Bush's commanding officer say he admired, rather than having disparaged, Bush's service? So-what if there was no waiting list for candidates to fly the highly dangerous fighter planes assigned to the Texas Air National Guard? So-what if "special treatment" wasn't even needed to get into the Texas Air National Guard in contrast to the Army National Guard, for which there was a long waiting list?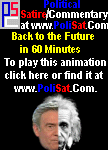 So-what if the head of the Texas Air National Guard had retired 18 months before the date on which the fraudulent memo claims he was pressuring Bush's immediate superior to "sugarcoat" Bush's record? So-what if Bush received an honorable discharge. So-what if the first two years of his "Guard" service involved being on active duty in the Air Force training to fly, and flying, what John McCain described as (and what Bush likewise knew to be) one of the most dangerous, accident-prone jet fighters we've ever had in our inventory?
So-what if the statistical risk of death from flying this plane in non-combat roles was in fact higher than the statistical risk of death from serving in a combat branch in Vietnam? So-what if the period Bush served on Active Duty in the Air Force was longer than the period John Kerry served on active duty in Vietnam? So-what if Bush never gave testimony in the Senate falsely claiming that for our soldiers to commit atrocities and war crimes was the official policy of the American military in Vietnam?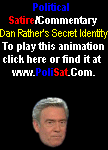 So what if Bush never met with representatives of Hanoi? So-what if Bush never claimed or implied that most American soldiers committed atrocities in Vietnam? So-what if Bush never had any medals to pretend to throw away. So-what if Bush never wrote a book disparaging America's military with a cover-picture mocking the statue of the marines raising the flag at Iwo Jima?
The only thing that matters is that CBS and I are solely responsible for the content of this ad, for which CBS sponsors and viewers are unwittingly paying.
Installment immediately preceding the one above, go here.
Recent Political Satire/Commentary Animations-- Click image to play. More: Text-Index/Images-Index.


























Donate your frequent-flier miles to military personnel to return home from port of reentry on leave: www.HeroMiles.Org.

| | |
| --- | --- |
| ·support our troops, support Bush, support Cheney, support victory in Iraq, support victory in Afghanistan, Clinton Liebrary, http://PoliSat.Com , PoliSatDOTcom, Salute America's Heroes, Fallen Heroes Fund, oppose Gore's Global Warming theory, support milblogs, Michael Yon, Pat Dollard, BlackFive, MilBlogs, MilBlogging, Michael Yon, Mudville Gazette, HotAir.Com, JawaReport, PajamasMedia , VictoryCaucus , VetsForFreedom , FreedomsWatch , DayByDayCartoon , WrennCom.Com , Video , Political Satire, Politics, News, oppose MoveOn.Org, oppose Code Pink, oppose DailyKos, oppose ANSWER, support PoliSat.Com, support WrennCom.Com, · | |

Other sites that feature PoliSat.Com's Political Satire/Commentary-- Click here to view our Affiliates page.