Jan. 26, 2004: PoliSat .Com's Political Satire/ Commentary Daily Update # 01·· ™©·2004·(Home)·
Where the satire is always commentary, but the commentary isn't always satire (but you'll know the difference)·
(Permanent, direct link to this Daily Update: http://polisat.com/du2004/du040131.htm#20040126-01.)
(Keep abreast of PoliSat.Com's Daily Political Satire/Commentary via Google's News Alert)
·
Bill Clinton says he can't meet the deadline for finishing his book on his legacy.·
According to Newsweek's just-published February 2, 2004 cover-date issue, Bill Clinton is having great difficulty writing the book for which he received he twelve-million-dollars in advance. According to Newsweek, he hasn't yet decided on a title for the book. Of course, it's widely understood that he desperately wants his book to out-sell Hillary's book, Living History. According to PoliSat.Com's anonymous but highly reliable (reliably high?) sources, he's tentatively decided to title his book "Living With Hystery." Who knows who will win the book-sale battle certain to be known as "Dueling Memoirs"?
In the meantime, a prominent Presidential Historian has offered ready-made material for inclusion in his book and has even offered to assign the copyright to Clinton as long as he would agree to incorporate the text of the book without editorial changes. That book is, of course, destined to be a runaway best seller ordered on-line or by fax.
In the wake of the Newsweek article, PoliSat.Com's Washington Bureau Chief obtained a brief but exclusive interview with Clinton about the book by posing as NPR reporter, Lefty Handonerbut. What follows below is the first of many excerpts from that interview. The first question propounded by our crack reporter was, "President Clinton, Why is it taking you so long to write your book?" Incredibly, Clinton responded extemporaneously in perfect rhyme: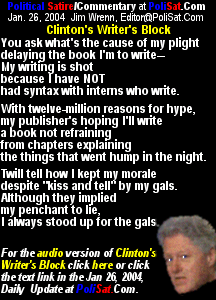 Clinton's Writer's Block.·
You ask what's the cause of my plight
delaying the book I'm to write--
My writing is shot
because I have NOT
had syntax with interns who write.
With twelve-million reasons for hype,
my publisher's hoping I'll write
a book not refraining
from chapters explaining
the things that went hump in the night.
Twill tell how I kept my morale
despite "kiss and tell" by my gals.
Although they implied
my penchant to lie,
I always stood up for the gals.
(To hear the recorded version of Clinton's response, use this Audio Link to hear it on your own media player in WAV form.)
Clinton also hopes to have his book ready for release before, or in connection with, festivities for the opening of his official Clinton Library, which he named "Clinton Presidential Center" since "Clinton Library" would remind people of the Clinton Liebrary. Of course his critics hope to have their own say about his legacy at the Counter Clinton Library, also scheduled to open soon in Little Rock.
Asked by PoliSat.Com's Washington Bureau Chief what it's like for Hillary to now be the focus of attention rather than him, he said he was glad because he knew she'd always wanted the top spot. Questioned about recent reports that he's gaining so much weight that he's having to acquire a new wardrobe, Clinton said the reports were exaggerated but conceded that no longer being in the top spot requires less energy and makes him more prone to gain weight.
When asked whether he has a preference among those currently vying for the Democratic nomination for President for the November, 2004, election, Clinton said he did not plan to endorse anyone even though many of his former campaign workers are running Wesley Clark's campaign. He added, "I want to remain neutral, so it would be wrong for me to endorse the screamer, Howard Dean, the anti-DLC Kerry, the un-tested Edwards, the flaky Kucinich, or the stodgy Lieberman, but I must admit I'm tempted to endorse the sharp-witted Sharpton."
Near the conclusion of the interview, PoliSat.Com's Washington Bureau Chief asked him whether he had trouble securing interns for all the desired positions in his new office. Ignoring the question while opening the humidor on his desk, he offered a cigar to our Bureau Chief, a chain-smoker, who politely declined. To hear Clinton's answer to the final question, "Have you seen Monica lately," use this Audio Playback to hear his response in MP3 or this Audio Link to hear it in WAV form. As our Bureau Chief exited expecting Clinton to accompany him to the door, Clinton remained at his desk and just waved goodbye.
·
| Get Political-Satire Daily Updates by email | Become a PoliSat.Com Affiliate | Tell a friend about us | Search PoliSat.Com |
| Index to recent Daily Updates | Index to Archives of Daily Updates | View most recent animation | Index to Animations |

......
For the Daily Update immediately preceding the one above, click here.
Donate your frequent-flier miles to military personnel to return home from port of reentry on leave: www.HeroMiles.Org.

| | |
| --- | --- |
| ·support our troops, support Bush, support Cheney, support victory in Iraq, support victory in Afghanistan, Clinton Liebrary, http://PoliSat.Com , PoliSatDOTcom, Salute America's Heroes, Fallen Heroes Fund, oppose Gore's Global Warming theory, support milblogs, Michael Yon, Pat Dollard, BlackFive, MilBlogs, MilBlogging, Michael Yon, Mudville Gazette, HotAir.Com, JawaReport, PajamasMedia , VictoryCaucus , VetsForFreedom , FreedomsWatch , DayByDayCartoon , WrennCom.Com , Video , Political Satire, Politics, News, oppose MoveOn.Org, oppose Code Pink, oppose DailyKos, oppose ANSWER, support PoliSat.Com, support WrennCom.Com, · | |