Nov. 2, 2004 #01: Political Satire/Commentary where satire is always commentary but commentary isn't always satire™ (but we're confident you'll know the difference) Search PoliSat.Com Home Tell a friend about PoliSat.Com Subscribe Permanent link to this installment in PoliSat.Com's Archives Google-News list of recent updates About author, Jim Wrenn.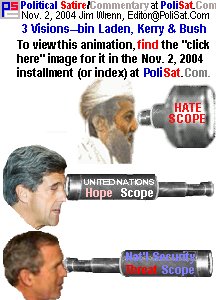 Osama bin Laden, John Kerry and George Bush offer 3 different visions and strategies-- Hate, Haute and Heart; Campaign 2004; Election 2004; Usama bin Laden.
November 2, 2004. Osama bin Laden's vision of the future is one in which first the Middle East and then the rest of the Muslim world embraces his medieval, barbaric, totalitarian, fanatical interpretation of Islam. Bin Laden views the world through his "Hate Scope." John Kerry, who, in his own intellectually "nuanced," misguided way, loves America no less than George Bush, envisions a future in which America tactically views the power of liberty through the "internationalist" lens of the "United Nations Hope Scope." George Bush, who loves America no less than John Kerry, envisions a future in which America strategically trusts the ultimate power of liberty and employs a common-sense understanding of how to view threats to liberty through the "National Security Threat Scope."
I refuse to believe that today a majority of American voters will cast votes "against Bush" that would demoralize our troops, thrill al Qaeda and the French and insult our real allies (the British government, British troops, a courageous minority of British citizens, the Australians, the Poles, the Italians, the Czechs, the Japanese, the Jordanians, the Afghans, and, most of all, the Iraqis enduring the final stages of a three-decade national nightmare). To vote Bush out of office would re-teach our enemies the lessons of Mogadishu we've spent three years reversing.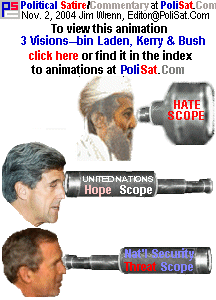 The haute tactics Kerry would substitute for Bush's long-term strategic vision would, of course, thrill the Hollywood Bush-Haters almost as much as it would encourage terrorists to expect to be able to influence American foreign policy by intimidation and terror. It will make Israel's enemies expect more diplomatic deference to Palestinian terrorists in the guise of being more "even handed" toward Israel.
Those who would rationalize voting for Kerry on the theory that the terrorists "want Bush to win" to improve their recruitment abilities should ask themselves: "Who served to provide recruitment incentives for the 1993 bombing of the World Trade Center, Mogadishu, the U.S. Embassy bombings in Africa, the bombing of the U.S.S. Cole, and the 9-11 attack?" In the wake of the al Qaeda success in using terror on March 11, 2004, to reverse the policy of Spain, who can seriously doubt that if bin Laden were to have been able to do so, he would have ordered an attack on the U.S. before this election. Instead, his videotape offers a "truce" to states voting against Bush and threatens terror against the states that vote for Bush. This form of propagandistic terrorism is exactly what is invited by the hate-Bush propaganda of Michael Moore, whom the Democrats gave an honored seat beside Jimmy Carter at their convention in Boston.
I still expect a decisive victory for Bush. I have too much confidence in the new common sense of Americans forged in the wake of the 9-11 barbarity.
--Jim Wrenn, Editor at PoliSat.Com

Installment immediately preceding the one above, go here.
Donate your frequent-flier miles to military personnel to return home from port of reentry on leave: www.HeroMiles.Org.

| | |
| --- | --- |
| ·support our troops, support Bush, support Cheney, support victory in Iraq, support victory in Afghanistan, Clinton Liebrary, http://PoliSat.Com , PoliSatDOTcom, Salute America's Heroes, Fallen Heroes Fund, oppose Gore's Global Warming theory, support milblogs, Michael Yon, Pat Dollard, BlackFive, MilBlogs, MilBlogging, Michael Yon, Mudville Gazette, HotAir.Com, JawaReport, PajamasMedia , VictoryCaucus , VetsForFreedom , FreedomsWatch , DayByDayCartoon , WrennCom.Com , Video , Political Satire, Politics, News, oppose MoveOn.Org, oppose Code Pink, oppose DailyKos, oppose ANSWER, support PoliSat.Com, support WrennCom.Com, · | |

Other sites that feature PoliSat.Com's Political Satire/Commentary-- Click here to view our Affiliates page.