Oct. 22, 2004 #01: Political Satire/Commentary where satire is always commentary but commentary isn't always satire™ (but we're confident you'll know the difference) Search PoliSat.Com Home Tell a friend about PoliSat.Com Subscribe Permanent link to this installment in PoliSat.Com's Archives Google-News list of recent updates About author, Jim Wrenn.
Commentary-- John Kerry is "KerryyrreK" regarding Iraq, terrorism, George W. Bush 43, George H. W. Bush 41, the CIA, and our troops fighting to implement national policy.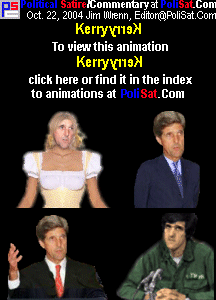 As election day approaches, some voters apparently still don't know "the real John Kerry." The "Goldilocks" Kerry assures us he would have the prescience to use preemptive war only when the time is "just right" and never "too soon" or "too late." Kerry seems more willing to risk being "too late" than "too early." George Bush recognizes the impossibility of knowing when the time would be "just right," so he says he would prefer attacking gathering dangers "too soon" to avoid being "too late." The aggressive John Kerry appeared only momentarily on CNN's Crossfire in 1997-- when he though Clinton might then be on the verge of unilaterally initiating military action against Saddam Hussein, he said we couldn't allow Saddam to continue defying U.N. sanctions and that If our allies wouldn't support action against him, we'd have to "go it alone."
Kerry was quite caustic in accusing Bush of having failed to strengthen our intelligence activities against terrorism during Bush's eight months in office before 9-11. The "same" Kerry had been equally caustic a mere year after the 1993 bombing of the World Trade Center in proposing to slash $6 Billion from the CIA budget to curb it's "abuses." Where was his prescience from 1994 until September 11, 2001?
Kerry is so insistent in speciously claiming that he would have supported toppling Saddam if George W. Bush were to have done what his father had done: assembled an "international" coalition (i.e., one that included the French) and obtained U.N. approval. Yet this is the "same" Kerry who as a Senator voted against using U.N.-approved force to Saddam Hussein out of Kuwait in 1991.
These are but a few of the examples of political opportunism which Kerry tries to portray as being the product of "intellectual nuance." Notwithstanding Kerry's intellectual pretenses, it's not "nuanced" sense; it's NuanSense-- i.e., nonsense.
Where's the consistency? It's the consistency of his being willing to defame American foreign policy in 2004 as well as in 1971. In 1971 he defamed our foreign policy by alleging that commission of atrocities in South Vietnam was military policy from the top to the bottom. In the 2004 Presidential debates, he said that at the fall of Baghdad, "the only building we protected was the oil ministry," and in doing so, fed the false propaganda being spread against us by the Islamic Fascists (and French "intellectuals"). This was as inexcusable and indefensible as Kerry's continued silence about Teddy Kennedy's irresponsible statements alleging Bush launched the war to provide "profits" for his friends and equating the mistreatment of prisoners at Abu Ghraib with the barbaric torture routinely dispensed by Saddam Hussein and his henchmen.
--Jim Wrenn, Editor at PoliSat.Com.
Installment immediately preceding the one above, go here.
Recent Political Satire/Commentary Animations-- Click image to play. More: Text-Index/Images-Index.





























Donate your frequent-flier miles to military personnel to return home from port of reentry on leave: www.HeroMiles.Org.

| | |
| --- | --- |
| ·support our troops, support Bush, support Cheney, support victory in Iraq, support victory in Afghanistan, Clinton Liebrary, http://PoliSat.Com , PoliSatDOTcom, Salute America's Heroes, Fallen Heroes Fund, oppose Gore's Global Warming theory, support milblogs, Michael Yon, Pat Dollard, BlackFive, MilBlogs, MilBlogging, Michael Yon, Mudville Gazette, HotAir.Com, JawaReport, PajamasMedia , VictoryCaucus , VetsForFreedom , FreedomsWatch , DayByDayCartoon , WrennCom.Com , Video , Political Satire, Politics, News, oppose MoveOn.Org, oppose Code Pink, oppose DailyKos, oppose ANSWER, support PoliSat.Com, support WrennCom.Com, · | |

Other sites that feature PoliSat.Com's Political Satire/Commentary-- Click here to view our Affiliates page.