Oct. 19, 2004 #01: Political Satire/Commentary where satire is always commentary but commentary isn't always satire™ (but we're confident you'll know the difference) Search PoliSat.Com Home Tell a friend about PoliSat.Com Subscribe Permanent link to this installment in PoliSat.Com's Archives Google-News list of recent updates About author, Jim Wrenn.
Vladimir Putin says defeat of George Bush in Election 2004 would be "victory for terrorists"; Bush admits mistake in doubting John Kerry's ability to "bring allies to the table."
Russian President Vladimir Putin told the Moscow Times that a defeat of George W. Bush in Election 2004 would be a "victory for the terrorists." In the wake of this announcement, PoliSat.Com's high-tech remote-sensing equipment has intercepted George Bush's brainwaves as he planned a campaign commercial giving John Kerry credit for "bringing an ally to the table." Here's a transcript of the commercial:
Says Dubya, "I'll rate my biggest mistake"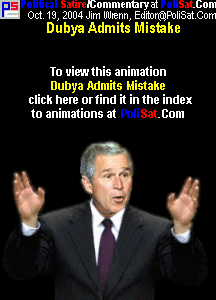 I'm Dubya to say I've approved
this ad on mistakes I'll reprove.
I'll list, to begin,
examples of when
mistaken by John I've been proved.
When Kerry proclaimed he'd be able
to "bring allies back to the table,"
I made the mistake
of granting no weight
to odds that for that he'd be able.
But now I'll admit that I'm able
to credit John Kerry as able
to meet that condition
by nuanced positions
that brought an old friend to the table.
That friend, thanks to John, is now rootin'
for us to succeed, so he's tootin':
"The terrorists could
claim vict'ry, and would,
if Bush lost to Kerry," says Putin.
The reason that Vladimir tilts
t'ward me is he knows John would wilt
in waging of war
'cause Kerry's no more
than merely "Dukakis on Stilts."
Putin is not alone in viewing a defeat of Bush as a victory for terrorists despite the fact that he still claims to disagree with Bush's Operation Iraqi Freedom. In a thorough, brilliantly written TimesOnLine column on October 17, 2004, Sarah Baxter, a lifelong liberal strenuously disagreeing with Bush on almost everything other than Operation Iraqi Freedom, announced her intention to vote for Bush to the intense dismay of almost all her "intellectual" friends. In explaining her reasoning, she said, inter alia:
As for Kerry, he has been sounding more and more cynical with each passing suicide and car bomb. He is giving Iraqi insurgents — who, true to their form under Saddam, relish killing their own people most of all — every reason to step up their attacks in the hope of sabotaging their own elections and replacing Bush in the White House. It is the behaviour of a politician with more ambition than conscience.
Baxter's writing skills and clarity of reasoning rival those of Christopher Hitchens, one of a handful of left-of-center thinkers who openly support Bush despite strenuously disagreeing with him on most social and economic issues. She has good company with classical liberals imbued with neocon realism regarding foreign policy such as Ed Koch, Rudi Giuliani, Arnold Schwarzenegger, Dennis Miller, Ron Silver (a member of the Council on Foreign Relations), Dennis Hopper, Kelsey Grammar, and many more.
Kerry's extraordinary versatility in sequentially, and often simultaneously, being the "un-Bush," "un-Dean," and "un-Lieberman" have left him firmly ensconced in the larger, more credible role of being un-principled regarding Operation Iraqi Freedom. Regarding domestic policy, he is proving himself to merely be "Dukakis on stilts."º¹
--Jim Wrenn, Editor at PoliSat.Com.
º¹ ·Many people credit Maureen Dowd as the one who coined the "Dukakis-on-stilts" description of Kerry in her satirical column (Murder Most Fowl) on February 8, 2004, ascribing the following comments to Cheney by Rumsfeld during a hunting trip:
[Dubya] should have come with us today. He's home hugging his feather pillow. He's worried about fancy-pants Kerry pushing his overblown heroics in Vietnam while Junior was occasionally showing up to fly jets defending Texas against Oklahoma. But my lord, it will be like shooting birds in a pen. Kerry's just Dukakis on stilts. All we need are a few gay nuptials outside the Boston convention hall and we're home free.
However, a Google Search of the internet reveals the following source which, on January 19, 2004, shows a "[unidentified], grizzled farmer [in Iowa]" coined the prhrase:
As the press labored to market the Iowa Democratic Caucuses as the most exciting horse race since Ben Hur, a grizzled farmer deadpanned: "Does anyone else here think John Kerry is just Mike Dukakis on stilts?"
Unfortunately, that link doesn't identify its author, who is hereby invited to come forth and identify himself. I await authoritative identification from someone at the College Publisher domain.
--Jim Wrenn, Editor at PoliSat.Com.
Installment immediately preceding the one above, go here.
Recent Political Satire/Commentary Animations-- Click image to play. More: Text-Index/Images-Index.



























Donate your frequent-flier miles to military personnel to return home from port of reentry on leave: www.HeroMiles.Org.

| | |
| --- | --- |
| ·support our troops, support Bush, support Cheney, support victory in Iraq, support victory in Afghanistan, Clinton Liebrary, http://PoliSat.Com , PoliSatDOTcom, Salute America's Heroes, Fallen Heroes Fund, oppose Gore's Global Warming theory, support milblogs, Michael Yon, Pat Dollard, BlackFive, MilBlogs, MilBlogging, Michael Yon, Mudville Gazette, HotAir.Com, JawaReport, PajamasMedia , VictoryCaucus , VetsForFreedom , FreedomsWatch , DayByDayCartoon , WrennCom.Com , Video , Political Satire, Politics, News, oppose MoveOn.Org, oppose Code Pink, oppose DailyKos, oppose ANSWER, support PoliSat.Com, support WrennCom.Com, · | |

Other sites that feature PoliSat.Com's Political Satire/Commentary-- Click here to view our Affiliates page.