Oct. 8, 2004 #01: Political Satire/Commentary where satire is always commentary but commentary isn't always satire™
(but we're confident you'll know the difference) Search PoliSat.Com Home Tell a friend about PoliSat.Com Subscribe
Permanent link to this installment in PoliSat.Com's Archives Google-News list of recent updates About author, Jim Wrenn.
Bush-Kerry debate--Town Hall Debate-- Voters wonder if John Kerry will repeat enemy propaganda he spouted in first debate with George W. Bush; Old Kerry Wine in New Kerry Bottle.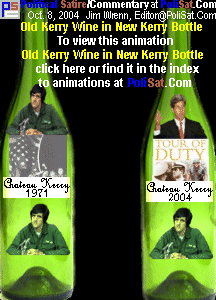 Regarding the Bush-Kerry Town Hall Debate, voters wonder whether John Kerry will repeat the enemy propaganda he almost explicitly mimicked in the first Bush-Kerry debate. Kerry's prior history suggests he's likely to do so and thereby give George Bush a valid opportunity to say "There you go again."
In the first debate, John Kerry sought tactical political advantage by making a claim against George W. Bush calculated to reinforce the defamation spread by enemy propaganda-- i.e., the false, defamatory claim that Bush's "real" purpose in launching Operation Iraqi Freedom was for the United States to "seize" Iraq's oil. How did Kerry do this? He made the statement that when Baghdad fell, "the only building" our forces "protected" was the "oil" ministry.
Kerry knows, as does anyone who was paying attention at the time, that Baghdad "fell" far sooner than we had expected. Kerry knows that the eleventh-hour refusal of Turkey keep its word to allow the 4th Infantry Division to enter Baghdad from the north had given our forces every reason to expect far greater difficulty in "taking" Baghdad and the area we now call the Sunni Triangle. He knows we weren't prepared for Saddam's forces, agents, etc. to suddenly abandon Baghdad-- Kerry, like the rest of us, surely remembers that on one day, Baghdad Bob was holding press conferences in Baghdad denying that any American troops had entered any part of the city, and the very next day he, and all the Hussein-regime officials, representatives, "minders" for the media, military personnel, police, suddenly disappeared.
Kerry knows that the primary reason for which our forces were risking their lives to guard the oil wells, the oil refineries, the oil terminal on the Gulf, and the "oil ministry building" was that we expected Saddam Hussein to try to reprise his mass-destruction of the oil industry as he had done in Kuwait in 1991. Kerry knows that the reason we asked our troops to risk their lives to protect those facilities and that industry was not for us to "seize" it but rather to preserve its viability as a means for Iraq to recover. Yet, just as in 1971, Kerry was willing to seek tactical political advantage by making a statement to the world that simultaneously defamed the motives of our leaders and provided support to enemy propaganda spreading the same defamation.
What's the difference between his being willing in 1971 to give testimony in the Senate as a "highly decorated" American soldier accusing his fellow soldiers still serving in Vietnam as engaging in widespread, barbaric "war crimes" as a matter of "policy" throughout the chain of command from top-to-bottom and his being willing in 2004 in the first Bush-Kerry debate to make an assertion supporting the enemy's propagandistic defamation that Bush launched Operation Iraqi Freedom to "control" Iraq's oil. None! It's simply the old Kerry wine in a new Kerry bottle.
--Jim Wrenn, Editor at PoliSat.Com.
Installment immediately preceding the one above, go here.
Recent Political Satire/Commentary Animations-- Click image to play. More: Text-Index/Images-Index.





















Donate your frequent-flier miles to military personnel to return home from port of reentry on leave: www.HeroMiles.Org.

| | |
| --- | --- |
| ·support our troops, support Bush, support Cheney, support victory in Iraq, support victory in Afghanistan, Clinton Liebrary, http://PoliSat.Com , PoliSatDOTcom, Salute America's Heroes, Fallen Heroes Fund, oppose Gore's Global Warming theory, support milblogs, Michael Yon, Pat Dollard, BlackFive, MilBlogs, MilBlogging, Michael Yon, Mudville Gazette, HotAir.Com, JawaReport, PajamasMedia , VictoryCaucus , VetsForFreedom , FreedomsWatch , DayByDayCartoon , WrennCom.Com , Video , Political Satire, Politics, News, oppose MoveOn.Org, oppose Code Pink, oppose DailyKos, oppose ANSWER, support PoliSat.Com, support WrennCom.Com, · | |

Other sites that feature PoliSat.Com's Political Satire/Commentary-- Click here to view our Affiliates page.