Oct. 5, 2004 #01: Political Satire/Commentary where satire is always commentary but commentary isn't always satire™
(but we're confident you'll know the difference) Search PoliSat.Com Home Tell a friend about PoliSat.Com Subscribe
Permanent link to this installment in PoliSat.Com's Archives Google-News list of recent updates About author, Jim Wrenn.
Cheney-Edwards debate-- Dick Cheney ready to sauté John Kerry's "Cheekins" coming home to roost from Poland's President Kwasniewski castigating Kerry for disrespecting Poland in Bush-Kerry debate.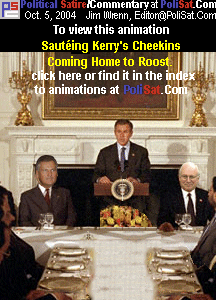 The smug, cheeky nature of many of John Kerry's intellectually self-contradicting, disingenuous "policy" statements about Iraq are beginning to boomerang against Kerry from foreign sources rather than merely domestic opponents of Kerry. To properly define the boomerang effects of such cheeky statements requires this writer to coin a new word for use in an old saying to aptly describe this phenomenon: Such statements have become John Kerry's "cheekins" coming home to roost-- i.e., this writer hereby coins "cheekins" to be cheeky pronouncements made with short-sighted, self-serving tactical purposes but which produce strategically counter-productive effects not expected by the pronouncer.
An example of one of Kerry's "cheekins coming home to roost" is described in the Drudge Report for October 5,2005:
Polish President Aleksander Kwasniewski has slammed Dem president hopeful John Kerry for not recognizing Poland's contributions and sacrifice to the war in Iraq.

"It is sad that a senator with 20 years of experience does not recognize Polish contribution. This is immoral," Kwasniewski told FACTS in an interview commenting on the US Presidential Debate.

"It is sad that a senator with 20 years of experience underestimates Polish sacrifice, this is sad."

The Polish President added however that one should consider this was a part of the ongoing electoral campaign.

"I do not think this was out of ignorance," the president emphasized on the TVN Facts.

"There is one thing which should be stated clearly: this coalition is not just the United States, Great Britain, Australia alone; it also involves participation of Polish, Ukrainian, Bulgarian and Spanish soldiers who have died. It is immoral not to recognize the involvement we contributed based on our conviction that there should be unity in fighting terrorism, that there was a need to display international solidarity and that Saddam Hussein was a dangerous individual of this world."

"President Bush acted like a real Texan gentleman, he made sure to show appreciation for other countries' involvement in the coalition," Kwasniewski pointed out.
Source: [http://www.drudgereportarchives.com/data/2004/10/05/20041005_151002_dnc58.htm]

The statement by Polish President Aleksander Kwasniewski underscores the fatuous, self-contradictory nature of Kerry's repeated assertions that he will "bring more allies to the table." Instead, Cheney and Bush will bring more allies "to the table" with their special recipe sautéing Kerry's Cheekins that have come home to roost. Kerry's defeat on November 2, 2004, will strengthen the resolve of our most steadfast allies rather than weakening their resolve as would be the effect of Kerry being elected.
By surreptitiously intercepting electronic communications within the Bush campaign detailing how Cheney will use this information tonight in the Cheney-Edwards debate and how the Bush campaign will use in in forthcoming campaign commercials, PoliSat.Com intercepted an electronic copy of the video and transcript of the next commercial.
Sautéing Kerry's Cheekins Coming Home to Roost.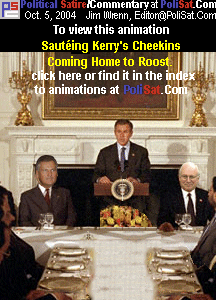 We're Cheney and Dubya to boost
the strength of our allies with foods
sautéed and then curried
when, thanks to John Kerry,
his cheekinsº¹ come home for to roost.
Before we begin to partake,
to Poland, a "thank-you" we state
for promptly returning
these cheekins that Kerry
sent Poland belittling its weight.
In the interest of fairness, PoliSat.Com's Washington Bureau Drawer Chief showed this commercial to high Kerry campaign officials. Despite being unsure what they were high on, he wanted to give them a chance to comment about the commercial. A top Kerry advisor, speaking on condition of anonymity, admitted that "Experts on political nutrition had warned Kerry of the nutritional paradox that the cheekins diet would cause him to lose, rather than gain, gravitas even though simultaneous consumption of such cheekins would increase the gravitas of his opponents."
º¹·"Cheekins" is a word I coined to define smug, cheeky, self-contradictory statements by Kerry belittling contributions by our allies in Iraq while simultaneously claiming he could "bring more allies to the table" to help us.
--Jim Wrenn, Editor at PoliSat.Com.
Installment immediately preceding the one above, go here.
Recent Political Satire/Commentary Animations-- Click image to play. More: Text-Index/Images-Index.




















Donate your frequent-flier miles to military personnel to return home from port of reentry on leave: www.HeroMiles.Org.

| | |
| --- | --- |
| ·support our troops, support Bush, support Cheney, support victory in Iraq, support victory in Afghanistan, Clinton Liebrary, http://PoliSat.Com , PoliSatDOTcom, Salute America's Heroes, Fallen Heroes Fund, oppose Gore's Global Warming theory, support milblogs, Michael Yon, Pat Dollard, BlackFive, MilBlogs, MilBlogging, Michael Yon, Mudville Gazette, HotAir.Com, JawaReport, PajamasMedia , VictoryCaucus , VetsForFreedom , FreedomsWatch , DayByDayCartoon , WrennCom.Com , Video , Political Satire, Politics, News, oppose MoveOn.Org, oppose Code Pink, oppose DailyKos, oppose ANSWER, support PoliSat.Com, support WrennCom.Com, · | |

Other sites that feature PoliSat.Com's Political Satire/Commentary-- Click here to view our Affiliates page.