Oct. 1, 2004 #01: Political Satire/Commentary where satire is always commentary but commentary isn't always satire™
(but we're confident you'll know the difference) Search PoliSat.Com Home Tell a friend about PoliSat.Com Subscribe
Permanent link to this installment in PoliSat.Com's Archives Google-News list of recent updates About author, Jim Wrenn.
Bush's Common Sense trumps Kerry's NuanSense (a.k.a. "nuance-sense") in First Presidential Debate.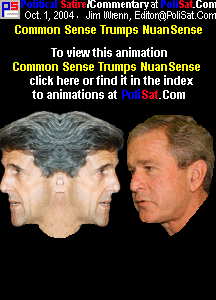 John Kerry's performance in the first presidential debate last night requires me to coin a new word to define the contrast between his performance and that of George Bush. Those "experts" who think last night's debate was a "draw" or that Bush gave a substandard performance suffer from the same problem from which Kerry's performance suffered: Not enough common sense to overcome "nuansense" (a.k.a. "nuance-sense"). Bush's common sense trumped Kerry's nuansense. Examples abound:

Jim Lehrer reminded Kerry of his 1971 anti-Vietnam-war testimony before the Senate when he posed the question, "How does one ask a man to be the last one to die for a mistake?" Then, after reminding Kerry of his recent statements characterizing Bush's decision to liberate Iraq as a "colossal mistake," Lehrer asked Kerry to explain how his plan for waging the war in Iraq in a "better" way than Bush would be different from "asking a man to be the last one to die for a mistake." Without even turning red in the face, Kerry denied the obvious logic of the question. He's now doing the same thing vis-a-vis Operation Iraqi Freedom that he did vis-a-vis our country when he joined the Jane Fonda crowd upon his return from Vietnam. From the beginning, I credited Kerry with his heroism, but that's not enough to qualify for President a person who so completely exemplifies the "intellectually nuanced" inability to make political decisions out of a fear that they might seem less than perfect in hindsight. If heroism alone were enough, Kerry would have broken ranks with his party in 1996 to support Bob Dole against Bill Clinton. So much for the "heroic" aspect of his claimed qualifications to be Commander in Chief. Many soldiers who perform heroically on the battlefield would make terrible generals.

In one of Kerry's statements purporting to list the "mistakes" he says Bush made in how he waged the war, Kerry gave credence to one of the most spurious, propagandist arguments made against us by the terrorists, the Baathist dead-enders, and Michael Moore: He said that immediately following the fall of Baghdad, "the only building" our troops protected was the "oil ministry." Thus, just as he gave a propagandistic victory to the North Vietnamese in 1971 by claiming the commission of barbaric atrocities by American soldiers was both commonplace and reflective of American military policy "from the top down" -- a vicious defamation which, as stated by Commander Paul Galanti, our troops being held captive in the Hanoi Hilton "endured torture" to refuse to falsely admit, this pretender to the role of Commander in Chief gave a worldwide propaganda victory to Usama bin Laden, al Qaeda, the diehard Baathists, Michael Moore, the French, Iran, and North Korea by his statement conferring respectability on the defamation that Bush invaded Iraq to seize its oil, when in fact, American soldiers were risking their lives to protect the oil pipelines, the refineries, and the harbor facilities as well as the "oil ministry" because protecting that industry was the best means to protect Iraq's ability to recover.

Kerry never even came close to offering even a modicum of a common-sense answer to the question repeatedly and quite properly raised by Bush: How can Kerry claim he will "bring to the table" those "allies" offended by Bush's decision to liberate Iraq to "share the burden" so we would no longer suffer "90% of the casualties" when he characterizes Bush's decision to liberate Iraq as a "colossal mistake"? Likewise, he never even came close to offering even a modicum of a common-sense answer to a related question: How can he expect to inspire confidence among our troops, our real allies who are actually helping in Iraq, and the Iraqi people when his strategy would place greater emphasis on having us withdraw as soon as possible rather than on unequivocally making victory the sine qua non for withdrawal?

Kerry continued making the absurd assertion that "if we had let sanctions continue," in which case the inspectors certainly would not have found what we have yet been unable to find-- i.e., large stockpiles of WMD's, we would then have received "support" of the United Nations to "remove" Saddam Hussein. What has he been smoking? Continuation of inspections until Inspector Blixeau were to have pronounced Iraq to be "free" of WMD's would have rekindled the previously growing demands of our "allies" (i.e., France) for sanctions to end. One would have to be living in a fantasy world to believe the United Nations would then have demanded that Saddam Hussein be "removed"-- Hell, Blixeau's pronouncement of the absence of WMD's would have made Saddam Hussein an even larger "hero" in the Arab world than did his mere survival of the 1991 Persian Gulf War.

Even if we were to have used our veto power to prevent repeal of sanctions and even if we were to have continued maintaining the "no-fly zones" (with Saddam Hussein's forces daily trying to kill our pilots), our "allies" would cease obeying the sanctions-- they would become meaningless. If we were to also continue maintaining our 250,000 troops in the Gulf to "keep pressure on Saddam Hussein" despite what would be the firestorm of criticism from our allies, their mere continued presence would "inflame" Islamic fanatics just as much as the relatively small pre-9-11 forces whose presence in the Gulf was one of the major reasons cited by Usama bin Laden for the 9-11 attack.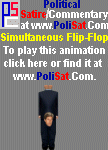 These are just a few examples. My only criticism of Bush's performance is that he should have explained something that only a tiny percentage of Americans know: While the Kerry Campaign is claiming the ability to "bring more allies" to our side, its campaign abroad for absentee votes in Australia (being run by Kerry's sister, Diana) is lending vocal support to the candidate seeking to unseat Prime Minister John Howard in the October 9, 2004, election, and that candidate, Mark Latham, is running on a campaign promise to withdraw Australian troops from Iraq if he were to defeat Howard. What makes that strategy even more despicable, is that the race in Australia is a tight one-- See my "Simultaneous Flip-Flop" commentary on September 28, 2004.
--Jim Wrenn, Editor at PoliSat.Com.
Installment immediately preceding the one above, go here.
Recent Political Satire/Commentary Animations-- Click image to play. More: Text-Index/Images-Index.

















Donate your frequent-flier miles to military personnel to return home from port of reentry on leave: www.HeroMiles.Org.

| | |
| --- | --- |
| ·support our troops, support Bush, support Cheney, support victory in Iraq, support victory in Afghanistan, Clinton Liebrary, http://PoliSat.Com , PoliSatDOTcom, Salute America's Heroes, Fallen Heroes Fund, oppose Gore's Global Warming theory, support milblogs, Michael Yon, Pat Dollard, BlackFive, MilBlogs, MilBlogging, Michael Yon, Mudville Gazette, HotAir.Com, JawaReport, PajamasMedia , VictoryCaucus , VetsForFreedom , FreedomsWatch , DayByDayCartoon , WrennCom.Com , Video , Political Satire, Politics, News, oppose MoveOn.Org, oppose Code Pink, oppose DailyKos, oppose ANSWER, support PoliSat.Com, support WrennCom.Com, · | |

Other sites that feature PoliSat.Com's Political Satire/Commentary-- Click here to view our Affiliates page.