·
About Archives (Old Archives) Contact Search PoliticalxRay/PoliSat.Com News Troops
Bill Clinton takes break from Hillary's Campaign 2008 by giving best tour ever of Clinton Library not to be confused with Clinton Liebrary.·
By Jim Wrenn,
Editor and Washington Bureau Drawer Chief at PoliSat.Com.
December 21, 2007--
Bill Clinton's taking a break from helping Hillary's Campaign 2008 by giving tours of the Clinton Library, not to be confused with the Clinton Liebrary. Less slim than when he was last seen on the campaign trail yesterday, it appears he must have resumed his fondness for Big Macs. Otherwise, he looks and sounds like the same ole Bubba we saw several years ago. Most who've taken the tour agree that it's the best tour ever.
Some political experts claim the video is an old one, but watching it carefully makes it obvious that it was just recently recorded. Political insiders say it's a test-video for a new fund-raising technique in which Bill will license display of the video tour in exchange for contributions to Hillary's campaign for the 2008 nomination. Either way, the video tour is in the process of becoming a big hit among both his fans and his detractors. One might ask, "How is that possible?" However, the answer is immediately apparent from watching the video.
Some observers think this "Clinton Library Tour" video is related to another video recently released by the Archivist at the Clinton Liebrary (to be confused with the Clinton Library) without Hillary's permission, but the Archivist says the two are entirely unrelated. Rumors abound that Hillary is extremely angry about the release, which exposes the 2001 versions of her and Bill's drafts of their memoirs, then to be titled "Dueling Memoirs."
but Meanwhile, Hillary and Barack are continuing to "knock" each other in the campaign. The shocking texts of their 2001 drafts for the "Dueling Memoirs" are here.
Meanwhile, Hillary Clinton and Barack Obama continue to "knock" each other "hammer and tong." Thus, no one seems to know how they both ended up singing a duet in the video titled "I Knock You Babe" in the style of "Sonny and Cher." Some people doubt the authenticity of this video, but the Archivist at the Clinton Liebrary vouches for it. PoliSat.Com's Washington Bureau Drawer Chief says highly reliable sources told him that the authenticity of the video has been verified by the same experts at the CIA who validate or discredit videos claiming to be of Usama bin Laden, so the source seems virtually unimpeachable in vouching for the authenticity of this video duet featuring Barack and Hillary. Indeed, they're the same experts who vouched for the authenticity of the video of Bill Clinton's Most Famous Speech.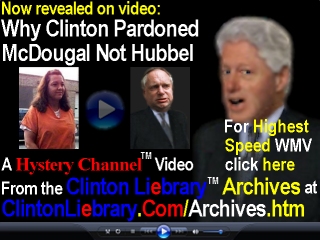 Even more shocking was the recent release of another video from the Clinton Liebrary Archives revealing why Bill Clinton pardoned Susan McDougal but not his life-long friend, Webster Hubbell. As though all this were not confusing enough, rumors continue to about over the effect of Oprah Winfrey's recent entry into the 2008 race as an official campaigner for Barack Obama. It raise the question: "By whom will "single moms" most be influenced?" Will it be Hillary or Oprah? Meanwhile, after hearing Andrew Young's recent explanation of why he thinks Bill Clinton is "more black" than Barack Obama, Oprah denied that she had every been one of Bill Clinton's "bimbos." Indeed, she's currently battling tabloid gossip that Oprah's one and only has become quite "jealous" of her relationship with Barack Obama. Said a seasoned political observer, "Stay tuned."

Finally, other ClintonPhiles (including BubbaPhiles as well as HillaryPhiles) worry that Barack may be on the verge of leaving Hillary's campaign in the dust. So, some suggested that in light of Andrew Young's comments, Hillary should take steps to prove that she, like Bill, is "blacker" than Barack by "going out" with "more black women than Barack Obama."

--Jim Wrenn, Editor and Washington Bureau Drawer Chief at PoliSat.Com.

Permanent link for this installment: http://polisat.com/DailyPoliticalSatire-Commentary/Archives2007/du20y07m12d21-01.htm.

·